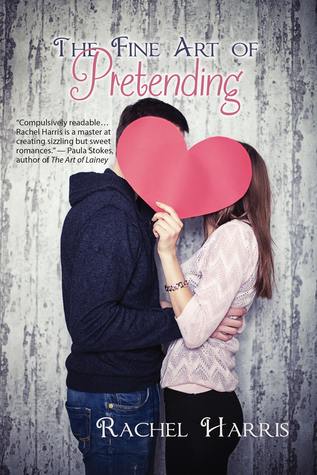 Title: The Fine Art of Pretending
Series: The Fine Art of Pretending #1
Author: Rachel Harris
Format: Paperback, 256 pages
Published: September 30th 2014 by Spencer Hill Contemporary
ISBN: 1939392284
Links: Goodreads | Amazon | B&N
Source: Netgalley
Reviewer: Linda
Rating: 4/5

According to the guys at Fairfield Academy, there are two types of girls: the kind you hook up with, and the kind you're friends with. Seventeen-year-old Alyssa Reed is the second type. And she hates it. With just one year left to change her rank, she devises a plan to become the first type by homecoming, and she sets her sights on the perfect date—Justin Carter, Fairfield Academy's biggest hottie and most notorious player.

With 57 days until the dance, Aly launches Operation Sex Appeal and sheds her tomboy image. The only thing left is for Justin actually to notice her. Enter best friend Brandon Taylor, the school's second biggest hottie, and now Aly's pretend boyfriend. With his help, elevating from "funny friend" to "tempting vixen" is only a matter of time.

But when everything goes according to plan, the inevitable "break up" leaves their friendship in shambles, and Aly and Brandon with feelings they can't explain. And the fake couple discovers pretending can sometimes cost you the one thing you never expected to want.


Linda's thoughts:
"If you want to recreate yourself in a new image, you must embrace your inner vixen."

THE FINE ART OF PRETENDING by Rachel Harris is a sweet New Adult romance told in alternating hero/heroine POVs. I'm a huge fan of Rachel's wonderful romances and this is certainly another gem! Her books always me laugh - and her trademark humor is certainly evident herein.

THE FINE ART OF PRETENDING is the story of seventeen-year-old Alyssa "Aly" Reed, our heroine, and Brandon Taylor, our hero and Aly's long-time best friend and now pretend boyfriend. At Fairfield Academy, the boys classify girls as either a casual or a commitment. Aly is tired of being passed over for dates because she's rated a commitment so she rebels against the system and decides to remake herself as a casual because that's what she believes guys want. LOL! Aly's project is humorously nicknamed "Project Hot To Trot" and "Operation Sex Appeal." Her end goal and the ultimate determinant of her project's success is to snag a perfect date at the prom with Justin Carter, Fairfield Academy's biggest hottie. What could possibly go wrong as two best friends navigate the perils of becoming more than friends?

From Aly's identity issues to Brandon's inability to admit his feelings, this story takes you right back to high school. With just 57 days to turn from a tomboy to a sensuous bombshell to garner the all important prom date with Justin, there's no time to waste. But there's a complication because even as her plans to snag Justin are going as planned, her long-time friendship with Brandon is falling apart.

I loved both Aly and Brandon. I really appreciated the different perspectives used to tell the story as it allowed me to get into each of the character's heads and better relate to them. They each came across as real and genuine and they cared for each other - they just didn't realize how much until their relationship was put to the test.

Supporting characters shined here also. I'm hoping that future installments in this series will feature Justin's, Lauren's, Gabi's, Kara's and Carlos' stories too!

Following please find a few of my favorite quotes from this endearing romance:

"Dude, what're you waiting for?" Carlos calls. "Plant one on her."
I lift my eyes and am shocked to see Brandon is staring at my mouth. He swallows audibly and flicks his gaze to mine. the emotions darkening the soft green color are too confusing to name.
Does he want to back out?
An exhale of breath leaves Brandon's lips, almost like a laugh, and he scoots closer to me on the blanket. I twist my legs under myself, sitting tall as I face him. He cups my chin and tilts it toward him, drowning me in the now dark-green depths of his eyes, the cologne I gave him for his birthday filling my head. It's woodsy and yummy and I always loved how it smelled on the store testers, but on Brandon, it's even sexier. My eyes flutter closed, and I inhale again, this time slowly. Goose bumps prickle my arms, and my head gets fuzzy.
Brandon slides his hand down the column of my neck and brings the other up, threading his fingers through the hair at my nape. His breath fans across my cheek, and everything south of my bellybutton squeezes tight.
When his mouth first meets mine, it's hesitant, questioning. But as I move my lips with his, he quickly grows bolder, coaxing them apart.
Desire, pure and raw, electrifies my veins as his tongue sweeps my mouth. A whimpering sound springs from my chest, and instinctively, I wrap my arms around his neck, tugging him closer. Needing more. My teeth graze his full bottom lip, and I pull it, sucking on it gently.
He moans and knots his fingers in my hair, and a thrill dances down my back.
Brandon is an amazing kisser, just as I knew he would be. I have no control over my body's reactions. I lose myself in his lips, his tongue, and his strong arms, forgetting time and space and even my surroundings..."
---

"Can guys get PMS?"
"More like MBHS," Gabi replies. "Male Butt-Hole Syndrome. It's an epidemic."
"I probably should just shut up and enjoy it." I take a deep breath. "But I'm starting to think maybe I'm just not built that way."
As soon as the words leave my mouth, I know it's the most honest thing I've said in a long time."
---

"I miss kissing you. I dream about it, Aly, and I'm at the point where I might just go insane if I can't do it again."
---

"Pulling to a stop in front of Aly's house, I take a deep breath. With a flick of my wrist, I cut the engine and listen to the silence. I've sat in this exact spot more times than I can count. In many ways, Aly's house is like my sanctuary. A place I go when my own home feels like a graveyard. I glance up at the bedroom window of the girl who knows me better than anyone, the only person I let see me cry after Dad died. I won't let this experiment take that or her away from me.
Tonight, I'm going to prove that Aly and I can go back to our normal, easy friendship.
Throwing open my door, I trudge up her sidewalk, plant my feet outside her front door, and ring the bell....
With the clacking sound of Aly's shoes approaching the door behind me, I remind myself again about tonight's mission. All I need is focus. I take another deep breath for good measure and rock back on my heels, ready to greet my best friend. She opens the door, wearing a black dress molded to her skin, and I let the air out in one big huff."

This is a light-hearted, predictable, but still quite delightful tale of the importance of finding out who you are and what you want. I like that this contemporary ends with three poignant moral lessons. 1) that you should be true to who you are, and 2) trust that at some point you'll meet someone who appreciates the real you, and 3) that changing yourself doesn't necessarily mean it will be for the better.

The theme herein of being true to yourself is definitely something I think that all of us of any age can identify with. If you're in the mood for a sweet high school romantic comedy, definitely look no further than The Fine Art of Pretending. It's the perfect book to lift the spirits of hopeless romantics everywhere!