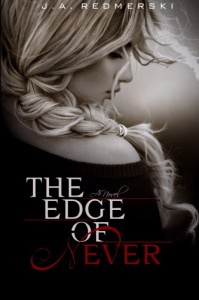 4.5 Stars
I was just telling my friend that 99.9% of the New Adult books that I have read have made me feel like slashing my wrists by the end. That is how dark and depressing they are, there are no hearts and flowers in this sub-genre. Or at least this is how it seems from the books I have cracked open. The Edge of Never is no exception; it is dark. It is heart breaking. However, by the end I was left feeling surprisingly light and had a smile on my face! This, I loved!
The story starts out slow but stick with it, at about 30% it takes off and you'll be hanging on for the ride. Camryn Bennett is lost. She is not connecting with anyone around her. She doesn't even know who she is anymore. She has taken one hit after another in life and has basically shut down. So one day she packs a bag and just - leaves. Boarding a bus to Idaho, no real plan in mind except to get away, she reflects on her life until she reaches Kansas. There she meets, Andrew Parrish. A sexy, annoying and funny young man that makes Camryn smile and laugh. Something she hasn't done in way too long. The author balances sensuality and humor perfectly, developing the relationship between Cam and Andrew. And you can feel that they are kindred spirits. They are each deep and intense characters in their own right but Andrew - he puts the 'swoon' in swoon-worthy heroes. Hint ladies; if you love tattoos and especially the meanings behind them, you will love Andrew.
Andrew is hiding something though. The author worked this bit of mystery masterfully. I thought, maybe he is in a famous band - what with his guitar playing and singing. Maybe he has a kid and when they go to his mom's house it will all come out. So many 'maybe's' went through my head the suspense and anticipation was killing me. And then when the big secret was finally revealed I wanted to lay down and throw a fit like a two year old. A few chapters later I was amping up to write my first ever 'un-happy reader' email to the author. I was aghast that the author would do that to Cam, to me! And then, suddenly...I was smiling. :)
From breathtaking, to heart pounding , and everything in between The Edge of Never packs a powerful punch right to your chest. It is a must read in my book for New Adult fans everywhere.