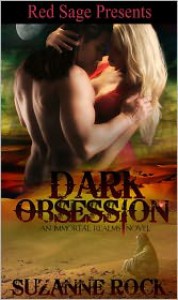 3.5 Stars
Dark Obsession continues with the scorching eroticism of those in the Immortal Realm. Another easy & quick read that was good. Just like in the first novel, there is an explosion of hot sex scenes that includes bondage, ménages and m/m; though those weren't pleasant and I felt were a tad over used.
Catherine is undercover in the fey king, Feroas's, camp with her council partner and sometimes lover Talen when her past lover, Javier, shows up trying to rekindle the romance they had two centuries ago. To save the were king that Feroas is hiding and to discover how he obtaining extra power, Catherine must make a deal with Javier to submit to his every desire in return for his help in their mission. But Catherine is torn between her obligations to her clan and the council, her loyalty to Talen and the love that still blooms for Javier along with the passion they share, though she knows that she will never be able to trust him again not to leave her.
Javier enters Feroas's camp determined to return to Barcelona with Catherine and pick up were they left off two hundred years ago. But Catherine is no longer the innocent demure council senator he remembers, she has grown into a strong, independent woman since his departure and will not meekly comply with his demands. In order to earn her trust and love once again he must help in her mission and bury his jealousy for the fey, Talen, while navigating the dangerous roads of Egypt.
Again, as I said with Dark Deception, I felt that the characters had more of a sexual chemistry then true emotions. The author gave some creative twist to a few love scenes with magical ribbons and fantasies. Though these scenes were intense and I enjoyed reading about them, I found myself connecting with Talen more and I look forward to reading his story, which is hopefully next.
There was a lot of magick use and reference throughout the story that sometimes lost me but added an interesting aspect. The ending was left open, not neatly tied together but you know that this couple will stick it out. Deceit, intrigue, peril and desire; Dark Deception will satisfy your most basic carnal needs in a paranormal erotica.
http://readingbetweenthewinesbookclub.blogspot.com/2011/06/2-for-1-review-dark-deception-dark.html